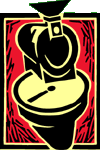 Dunn Bros Coffee
Roasted Fresh Daily
The original Dunn Brothers Coffee!
Dunn Bros Coffee
1569 Grand Ave.
St. Paul, Minnesota 55105
Phone: 651.698.0618
Email: info@dunnbrosgrand.com
We ship beans all over the US! Contact Us Toll Free at 1.800.536.7283
We're on the corner of Grand Ave and Snelling Ave near the Macalester College Campus.
New hours:
&nbsp
7:00am to 6:00pm Monday through Saturday
8:00am to 2:00pm Sunday
We are still offering coffee beans for PICK-UP or DELIVERY. Call 651-698-0618 to place an order.
Ask About
School & Group
Fundraisers!
Welcome to Dunn Bros Coffee! We are located on the corner of Grand Avenue and Snelling Avenue in Saint Paul, Minnesota. We are the original Dunn Bros Coffee. Established in 1987.