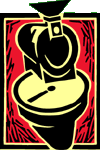 Dunn Bros Coffee
Roasted Fresh Daily
The original Dunn Brothers Coffee!
Dunn Bros Coffee
1569 Grand Ave.
St. Paul, Minnesota 55105
Phone: 651.698.0618
Email: info@dunnbrosgrand.com
We ship beans all over the US! Contact Us Toll Free at 1.800.536.7283
We're on the corner of Grand Ave and Snelling Ave near the Macalester College Campus.
In 1987, the Brothers Dunn (Ed & Dan) opened a little coffee shop at 1569 Grand Avenue in St. Paul, Minnesota. Ed began his coffee career in retail, first as a roaster, then green-bean buyer, and eventually opening Grand Avenue store. He has dedicated his life to being an evangelist of good coffee -- and the caffeinated everywhere thank him.
At Dunn Bros Coffee Grand Avenue -- Great Java, No Jive -- is more than just a slogan. It is the mantra that draws customers back to the Mecca of Joe.