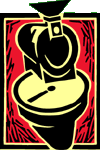 Dunn Bros Coffee
Roasted Fresh Daily
The original Dunn Brothers Coffee!
Dunn Bros Coffee
1569 Grand Ave.
St. Paul, Minnesota 55105
Phone: 651.698.0618
Email: info@dunnbrosgrand.com
We ship beans all over the US! Contact Us Toll Free at 1.800.536.7283
We're on the corner of Grand Ave and Snelling Ave near the Macalester College Campus.
If you would like to play at Dunn Bros Coffee on Grand Avenue and you have not played here before please mail or drop off a demo (CD or tape) to:
Dunn Bros Coffee
1569 Grand Ave.
St. Paul, Minnesota 55105
For more information or to send a sample music link please email us at music@dunnbrosgrand.com